It's no secret that fashion-loving LA girls are, in addition to shoes, addicted to handbags. Even back in high school, fewer things were cooler than having a signature Longchamp tote or Marc by Marc Jacobs quilted satchel. But for fresh-out-of-college millennials and young working women, splurging on designer bags just seems excessive when there's rent to pay. Yet we've also clearly grown out of the days of adorning our night-out looks with a Forever 21 crossbody. As always, finding affordable, quality options in that perpetually awkward middle ground of fast fashion and high-end contemporary/ designer is undoubtedly a challenge. But since LA is a breeding ground for creatives and fashion designers alike, shopping local is no longer just a trendy social cause but a solution to this problem. Providing that very-LA take on everyday handbags is Monserat de Lucca, the bohemian Los Angeles based fashion brand with quality, locally made options in the $60-$300 price range. Between the organic shapes, luxe fabrics, and of-the-moment designs, it's no wonder why Monserat de Lucca is quickly becoming a favorite amongst LA tastemakers. Keep scrolling to learn more about the brand and check out my 3 must-have bags for Spring!
Since launching out of an intimate Los Angeles design studio, Monserat De Lucca has grown into an internationally recognized brand driven by an appreciation for a rich sense of life. In 2015, Monserat De Lucca opened its flagship store in the heart of West Hollywood on W. 3rd St, which also houses its workshop where all designs are formed and some bags are even made. The store itself is beautifully modern with a very LA hint of beachy bohemian. Natural light streams in the large windows, highlight organic wood tables and wicker baskets filled with small leather goods and must-have everyday bags. My favorites are some of their more structured pieces, like a smooth leather fringed crossbody clutch, and the metallic tote bags, which would make a great lightweight laptop bag (pictured below). Simply put, they make covetable bags for real LA women (and women in other cities too) that are easy, cute, affordable, and work well for our busy, everyday lives. After the success of their first store, a second location was soon opened in a revitalized area of Lincoln Blvd in Venice. Monserat De Lucca is also carried at luxury boutiques and department stores around the world. Check out my 3 must-have bags below, perfect for Spring and your impending Coachella adventures!
The 3 Must Have Bags for Spring:
The Orado Perforated Shimmer Tote in Rose Gold
I know, I'm not usually one for shimmer. But the subtle metallic sheen on this trendy-hued rose gold tote is just fun enough to add a little more oomph to your daily work attire. The soft, perforated suede is super lightweight and flexible, making it the perfect bag to throw in your laptop, camera, chargers, notebooks, and haul to work.
Asakapae Mini Crossbody in Blush
If you're looking for the perfect lightweight, luxe, flexible everyday bag, then look no further than this blush mini crossbody. I practically live in my crossbodies (they're so easy and convenient), and this one is pretty much everything I look for in an everyday bag. Like the tote, the suede is ultra lightweight, while the bucket-like shape and fringe add some fun, boho elements without going full Free People. The bag easily retains its structure but has plenty of give, making it super comfortable and easy for toting around a bunch of stuff. It's kind of the perfect music festival bag as it probably won't kill your shoulder, and the trendy blush color actually pairs well with everything.
The Della Tote in Brandy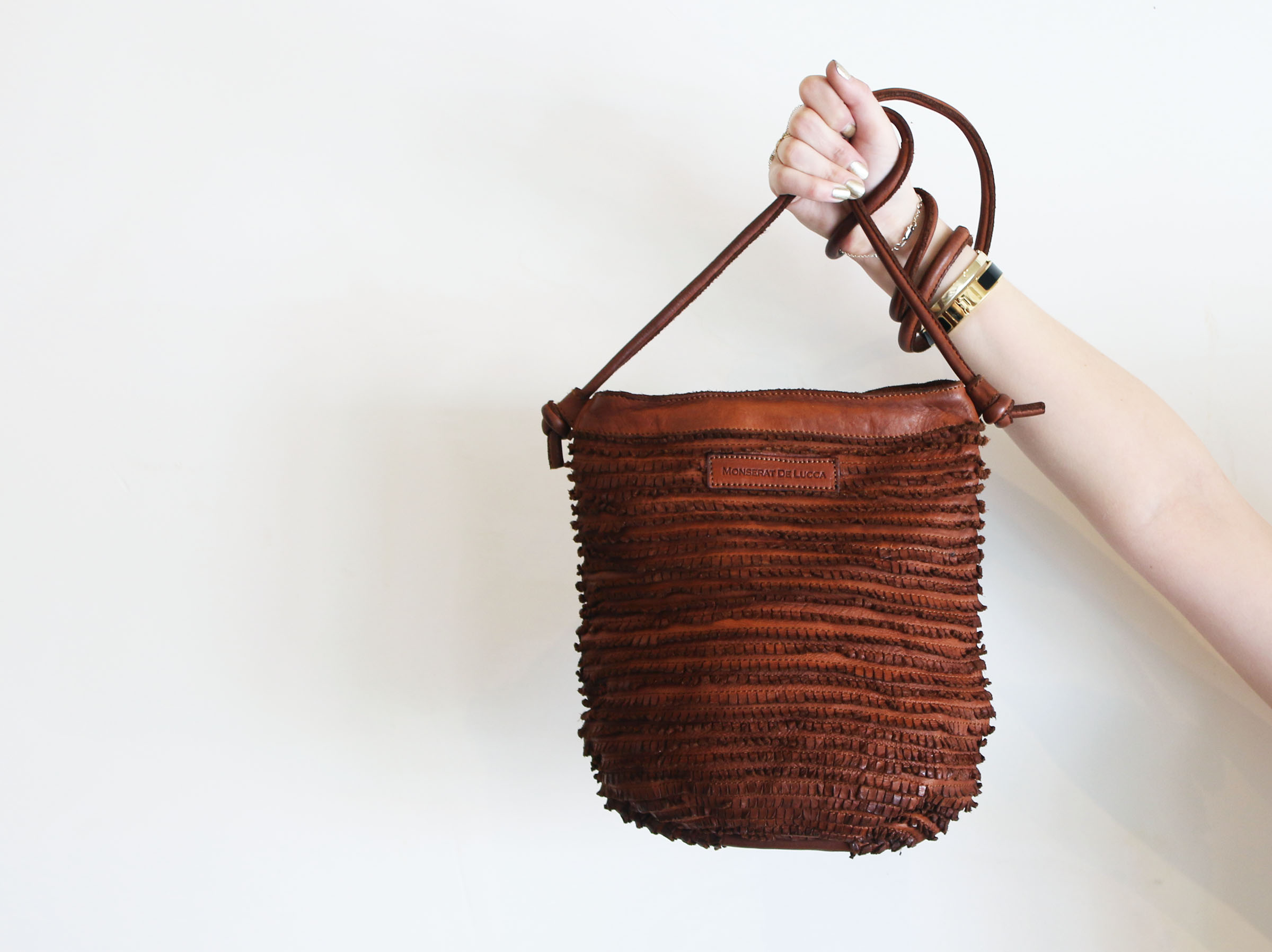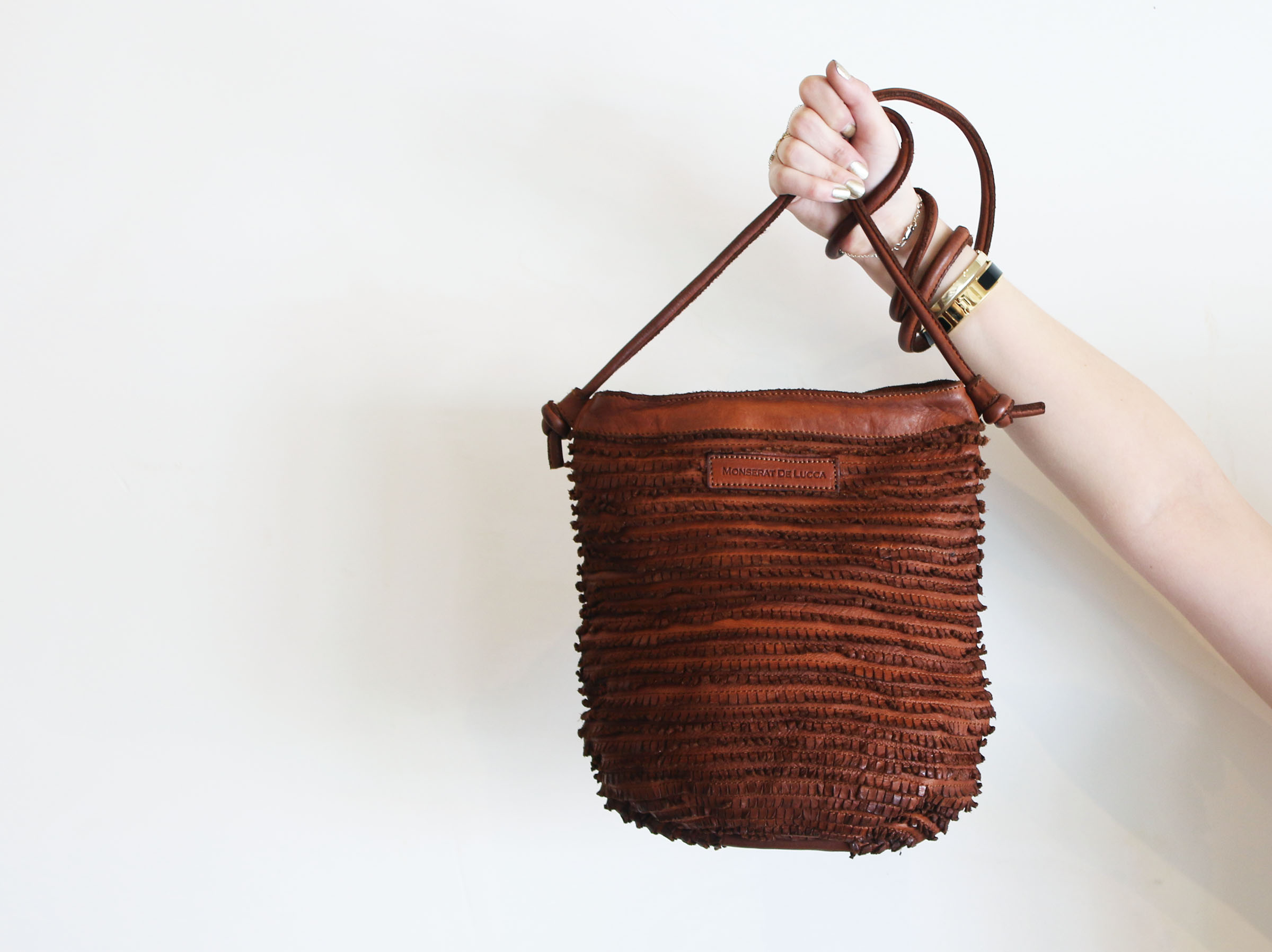 Monserat de Lucca's Della Tote in Brandy is an easy, sturdy choice for Spring that goes with everything. The cool leather texture is subtle, but adds a nice multi-dimensional feel, while the versatile silhouette can be worn as a shoulder bag or crossbody. It's a pretty nice size, making it a great option for those days when you're running around and need a little extra room for toting around the necessities. And unlike some of the more delicate suede styles, this bag doesn't wear too easily.
Shop the Post: