Welcome to Palm Springs week on The Editorialist LA! While we love writing about all things LA, we have to recognize that Palm Springs has become an even more popular destination for young Angelenos in recent years. What was once a sleepy retirement community and quiet destination for family vacations, Palm Springs has blossomed in the last few years, welcoming new, boutique hotels, cool restaurants, and even beautiful bars. Of course, it's still a huge destination in April for festivals like Coachella, but more than that, it has become a bigger destination year round (or, when it's not deadly hot to visit) for those in-the-know. This growing popularity is why we've decided to dedicate an entire week to Palm Springs, providing you a comprehensive, in-depth guide for all the cool spots to visit, best places to eat, and where to stay!
Ever since Coachella sprung into existence, hipsters flocking to the dessert have been in desperate need of cool places to stay. Cue The Saguaro, The Ace, and other minimalist destinations catering to millennials who want a trendy experience on a budget. One of the newest is Arrive, where Revolve threw their hotly-anticipated and well-attended Coachella bash last year. The hotel opened 2 years ago and has rapidly gained cult-like devotion amongst hipsters, influencers, and everyone in between. But this isn't just another trendy, minimalist place to lay your head. Arrive was designed with Palm Springs in mind; the modernist space is built around the pool, and reflects the area's midcentury modern design heritage.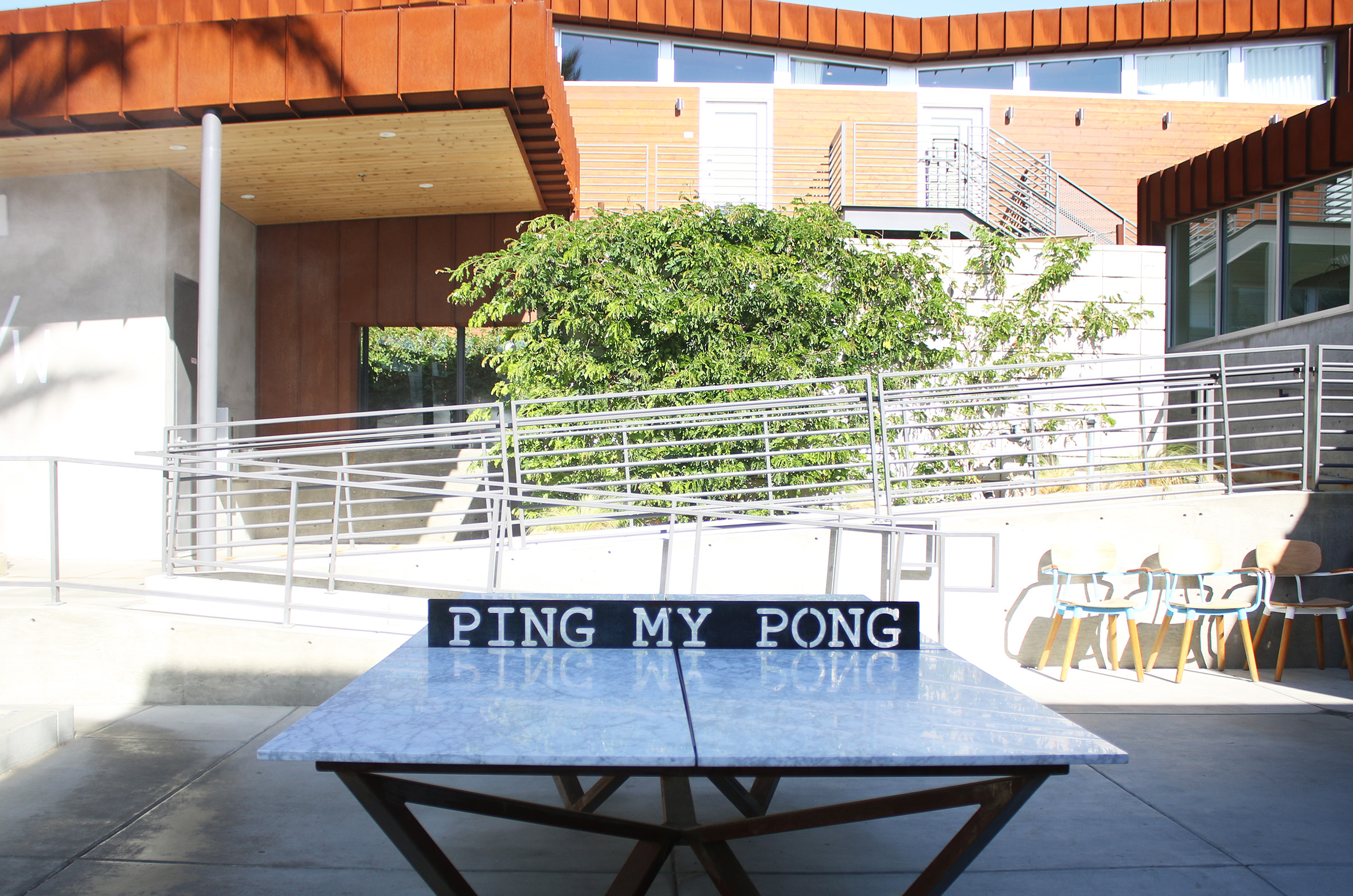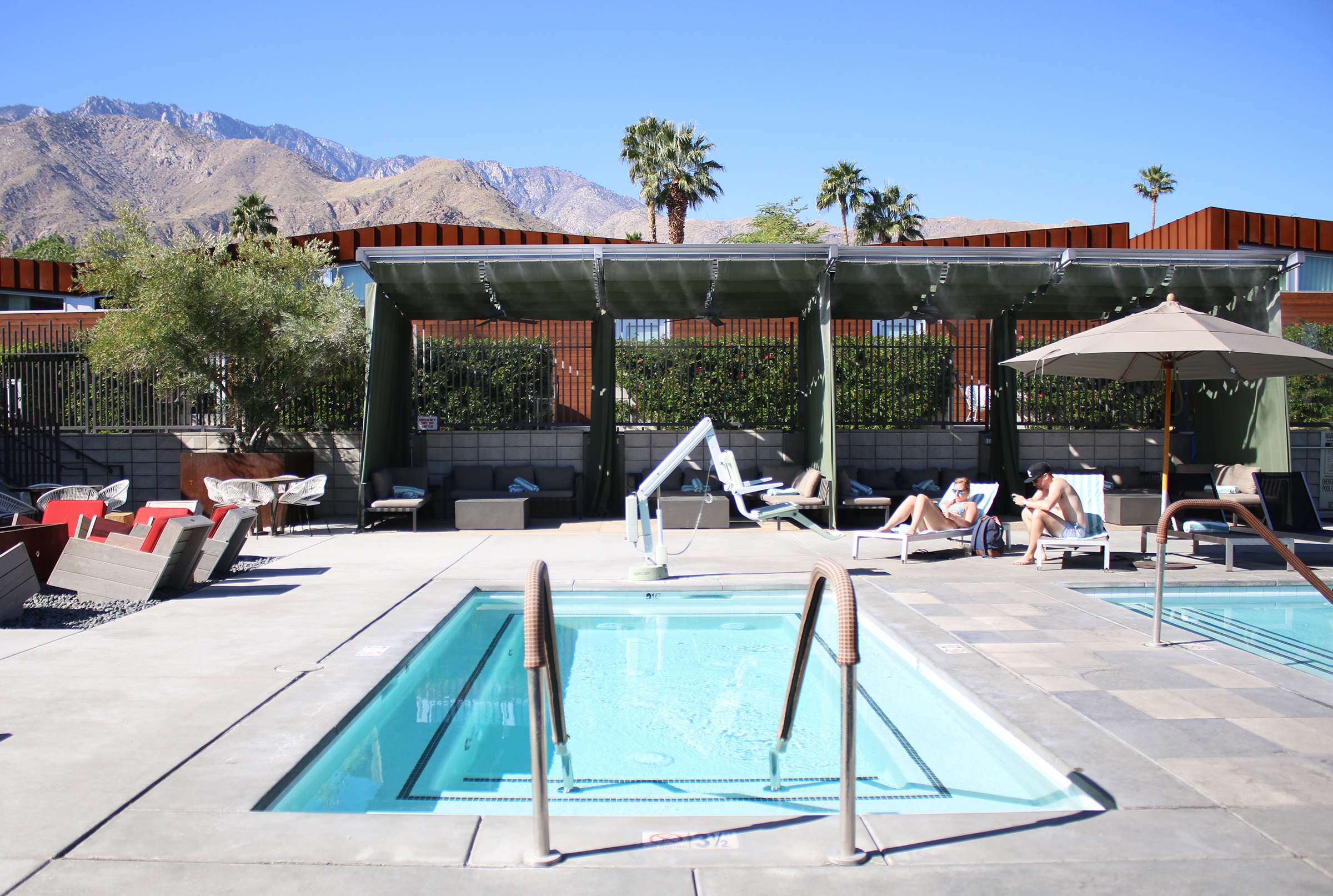 Upon arriving (ha), I immediately went to the bar (yes, the bar!) to check in. No, there is no lobby. There is no gym. There is no concierge. It is a very minimalist operation, but perfect for those who don't need the extra flourishes and would rather save their money. The bar, by the way, is really lovely, and though I didn't get a chance to grab a cocktail there, I loved that it was double sided (there was an inside bar, and poolside bar stools on the other side). The hotel also boasts its own coffee shop (with coconut milk iced lattes! My favorite!), ice cream shop, ping pong tables, free programming (like yoga classes) and a restaurant (more on that soon). I walked through the pool area, which is complete with misters, cabanas, and plenty of fire pits for cool evenings, to get to my room.
With only 32 rooms, it's a truly boutique and exclusive experience, but one that is arguably more affordable than similar options (the Arrive team are fully transparent in saying that they don't consider themselves a luxury hotel). But they might just be acting modest, as the rooms are far more luxurious than ones you'll find at similarly priced hotels. Each room is virtually the same, complete with one King bed (that was big and very comfortable) and a fun blue "A" print backsplash adorning the back wall. Catering to their millennial customers, there's a nice big smart TV so you can binge Netflix, as well as a desk and free wifi for getting some work done. They also had remote controlled shades, which is also super cool. Though there isn't really a closet per se, there's a nice little hanging unit with just enough room for your weekend clothes. Interestingly enough, the bathroom sink and shower are open to the rest of the room, with just a small sliding door hiding the toilet. That bathroom, however, is decked out in beautiful white marble (the bathroom of my minimalist dreams!).
I have to say, the room was very comfortable and a really nice space to come back to after a long, hot day. It definitely felt far more luxurious than most of the other hotels in Palm Springs where I've stayed. The shower and sleeping situations could get a bit awkward if you're there with a friend (and not a significant other), but we made it work. If you're looking for a true luxury experience with all the bells and whistles, this might not be the perfect fit. But if you're young and want to have a great experience that is still comfortable (yet affordable), Arrive is a great option. It's quieter and more boutique-oriented than some of the bigger, more party-driven spots. It's definitely nicer than competitors like The Saguaro and The Ace, and provides the necessary amenities. It's also a great spot for work trips with its minimalist offerings, free wifi, and coffee shop.
Stay tuned for more Palm Springs coverage and more on Arrive!